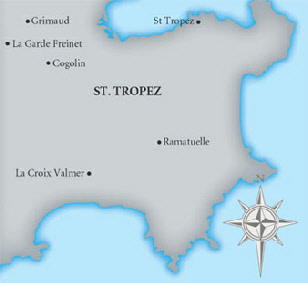 The town of St. Tropez stands at the end of a wild Peninsula, overlooking a bay bearing its name. St. Tropez has many moods, and changes in character depending on the time of year you choose to go. In high summer, the town and its surrounding beaches, are the epitomy of hedonism and high fashion, with crowded boutiques, cafes and restaurants.
At other times of year, when it is calmer, the charm of its narrow streets, picturesque old port and pretty pastel painted houses can be enjoyed at leisure. It became "St Trop" in the 1950s, when artists and painters including Picasso and Francoise Sagan discovered the beauty of this charming little port. Through the sixties "Le Jet Set" moved in, and whilst it is still extremely popular with Parisians and international stars, St. Tropez has a definite appeal for those looking for a quieter ambiance as well At its heart is the harbour, which is filled with some of the most expensive yachts in the world, and the Place de Lices, where it is a must to witness the local 'Tournoi de Boule'.
Most famous among the beaches is Plage de Pampelonne, a 5km stretch of white sand, lined with cafes and restaurants, including the renowned Club 55. The very north end of this is Plage de Tahiti, traditionally well-known as a famous haunt of celebrities. To the south of Plage de Pampelonne is Cap Camarat and beyond this are two slightly less accessible and much less crowded beaches, Plage de l'Escalet and Plage de la Briande. Further south lies the unpretentious beach of Gigaro and its neighbouring town La Croix Valmer. Overall, the peninsula has more than 40 beaches, so it is always possible to find peace and quiet if required.
St Tropez in pictures